DC Metropolitan Area-headquartered company is once again honored as one of the top staffing and recruiting companies for client satisfaction.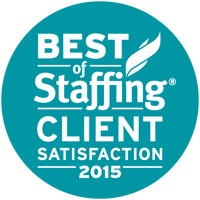 ROCKVILLE, MD, FEBRUARY 18, 2015 – SPARKS, the Washington, DC Area's leading temporary staffing and recruiting firms announced today they have won Inavero's Best of Staffing® Client Award for providing superior service to their clients. Presented in partnership with CareerBuilder, Inavero's Best of Staffing Client winners have proven to be industry leaders in service quality based completely on the ratings given to them by their clients. With satisfaction scores more than three times higher than the industry average, award winners make up less than two percent of all staffing agencies in the U.S. and Canada who earned the Best of Staffing Award for service excellence.
Focused on helping companies in Maryland, Virginia, DC and North Carolina find the right people for their job openings, SPARKS received satisfaction scores of 9 or 10 out of 10 from 71 percent of their clients, significantly higher than the industry's average of 32 percent.
"Our company motto is to ensure that everyone we encounter has a positive experience, amongst our internal and external clients," said SPARKS' President, Evette Baker. "Being awarded the Best of Staffing four years in a row is an honor and an achievement that our teams are making a positive difference every day. We cannot thank our client partners enough for the acknowledgment and the recognition. "
"With a tightening labor market and a need for growing companies to stay flexible, staffing agencies are placing more people into employment opportunities than at any other point in U.S. history," said Inavero's CEO, Eric Gregg. "More companies than ever before need a staffing agency with a proven commitment to service excellence. Bestofstaffing.com is the place to find winning agencies that place talent with the skills you need in your city or state. We are incredibly proud of the accomplishment of our 2015 award recipients."
About SPARKS
Headquartered in the Washington, DC Metro Area, with a client support network throughout the Mid-Atlantic region, SPARKS is a leading staffing and recruiting services provider that connects job seekers to the area's top employers for temporary, contract, contract-to-hire, and direct-hire opportunities. Additionally SPARKS offers a number of customizable workforce and talent management solutions for large users of staffing. Core areas of staffing expertise include: Administrative, Clerical, Customer Service/Call Center, Human Resources, Talent Acquisition, Legal Support, Government and Cleared Personnel, Mortgage/Banking, Accounting, Finance, Contracts, Procurement, Acquisitions, and Information Technology.