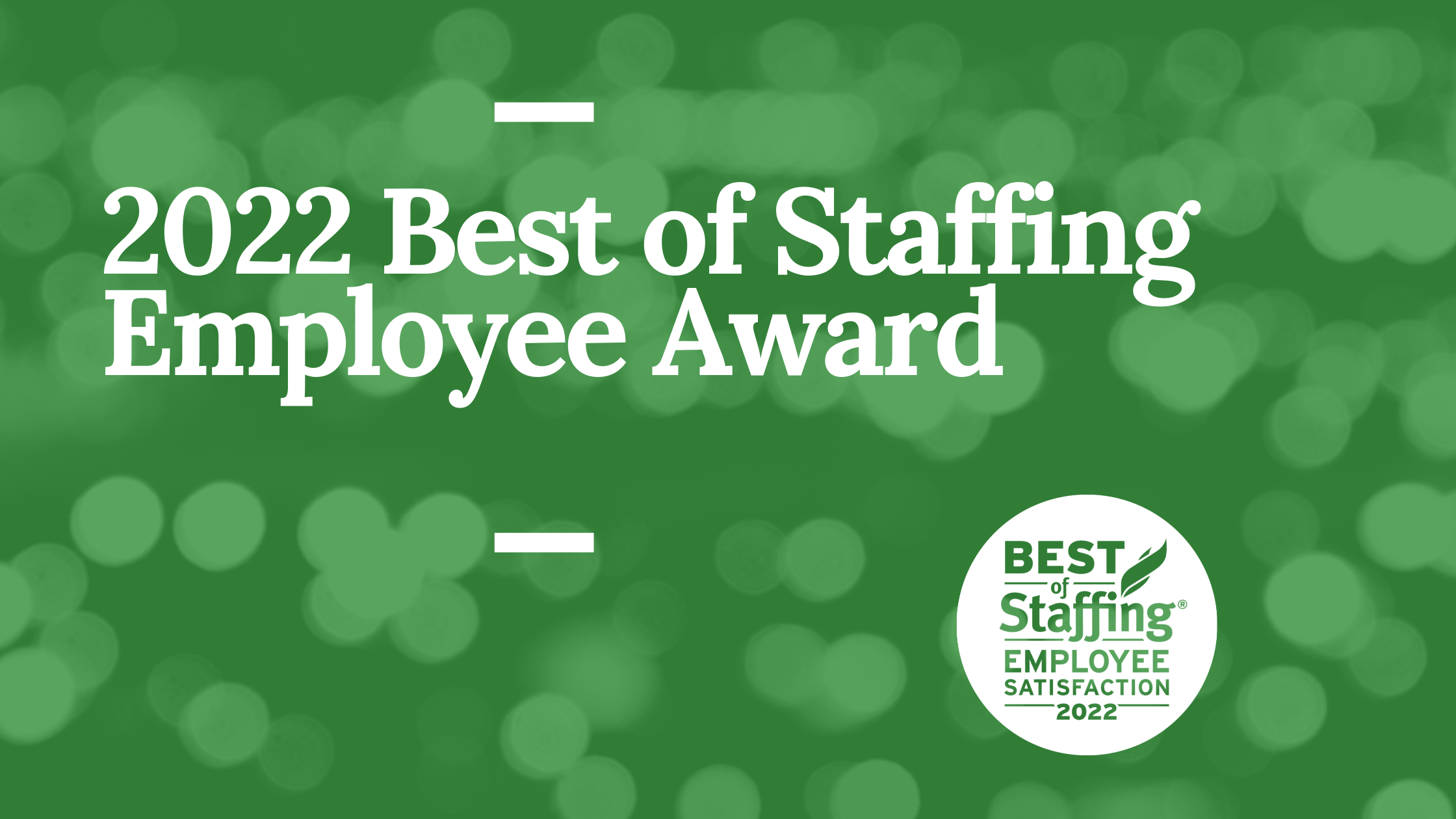 DC Metropolitan Area-headquartered company earns superior marks for employee experience and DEI efforts.
ROCKVILLE, MD – FEBRUARY 1, 2022 – Sparks Group, a leading staffing agency announced today that they have won the Best of Staffing Employee Award from ClearlyRated for the second consecutive year. Launched in 2021, the Best of Staffing Employee Award recognizes companies that provide an exceptional employment experience to their internal team members, including recruiting, sales, account management, and corporate staff. Recipients were chosen solely based on ratings provided via an independent survey that was recently conducted by ClearlyRated. In order to participate in the Best of Staffing award program for employee satisfaction, a firm must invite feedback from 100% of their internal staff on the overall experience of working at the firm, as well as the firm's performance related to issues of diversity, equity, and inclusion (DEI).
Sparks Group received an incredible 81.0% Employee Net Promoter Score (eNPS) from its staff with more than three-quarters of respondents rating their employment experience at Sparks Group a 9 or 10. For reference, according to an eNPS benchmarking article by AttendenceBot, Sparks Group's eNPS ranked similarly to software company HubSpot, and other companies that heavily invest in company culture like SalesForce and Netflix. This honor continues a long trend of Sparks Group being named both a leader in the staffing and recruiting industry and as a top workplace, having also been named to the 2022 Best of Staffing Client, the 2022 Best of Staffing Talent Lists, as well as the Washington Post Top Workplaces List for several years.
"We are excited to be honored as a top staffing and recruiting firms to work for in the U.S. by our internal staff," said CEO/Owner Steve Sparks. "Being named to the Best of Staffing Employee list is a mark of our corporate culture and commitment to providing a best-in-class employment experience for our recruitment, sales, account management, and corporate teams. I would like to thank ClearlyRated, our leaders, and our entire staff for helping us achieve this honor."
Based on employee feedback, Sparks Group achieved elite scores in several areas of employee satisfaction such as a sense of community and belonging, opportunities for advancement, fostering an inclusive workplace, optimism for the direction of the company, and pride in working for the company. During the survey, employees also had the option of providing responses to open-ended questions. Here are a few of the responses that we received:
"It truly is a positive work environment where employees feel heard by management. Management wants to hear our thoughts, listens to our feedback, and wants to make sure any new hire is a right fit for the team. Management wants to know [and] asks if there are issues. I feel they truly go to bat for their team(s)."

"I feel that management has made a tremendous effort to listen to the employees, especially throughout the pandemic. We have all learned from this experience and grown to trust each other even more. Even though we may not have been face-to-face every day, we still continued to push on and work hard for each other. As a team. That is due to [the] amount of respect we have for each other. Top-down to bottom-up."

"The leadership and culture at Sparks Group are just phenomenal. Every day, I truly feel lucky to be surrounded by such incredible people."

"Great organization with a Leadership Team who really cares about its employees."

"Everyone is so welcoming and works hard. Sparks Group also loves to acknowledge the success you are having and makes you want to keep being successful."

"The team I work on is great, we are all highly motivated and driven individuals. We get a lot of support from other teammates and Managers whenever we need assistance, so it is a very supportive and collaborative environment."

"Great work environment and a great place to work!"

"Sparks Group is a very welcoming environment that goes out of their way to make it feel more than just a job."

"Great work ethic, teamwork environment, managers are supportive and motivating, willing to work with you on issues and make requests happen."

"It's a great group of people, everyone works together."
"Winners of the 2022 Best of Staffing award have demonstrated their commitment to delivering exceptional service, even as Covid-19 has forced them to reimagine and rebuild their approach to business," said ClearlyRated's CEO and Founder, Eric Gregg. "These service leaders have kept the client, talent, and employee experience at the heart of their business strategy, and it's my honor to celebrate and showcase the 2022 Best of Staffing winners alongside feedback from their actual clients on ClearlyRated.com!"
About Sparks Group
Headquartered in Rockville, MD Sparks Group is an award-winning provider of staffing and recruiting services to businesses throughout DC, MD, VA, NC, and beyond. This year, Sparks Group is celebrating 50 years of excellence in the staffing industry, sourcing exceptional talent to help clients build world-class teams and candidates advance their careers.
About ClearlyRated
Rooted in satisfaction research for professional service firms, ClearlyRated utilizes a Net Promoter® Score survey program to help professional service firms measure their service experience, build online reputation, and differentiate on service quality. Learn more at https://www.clearlyrated.com/solutions/.
About Best of Staffing
ClearlyRated's Best of Staffing® Award is the only award in the U.S. and Canada that recognizes staffing agencies that have proven superior service quality based entirely on ratings provided by their clients and placed talent. Award winners are showcased by city and area of expertise on ClearlyRated.com—an online business directory that helps buyers of professional services find service leaders and vet prospective firms with the help of validated ratings and testimonials.
###
Sparks Group
Shawn Connelly, Marketing Manager
Office: (301) 279-2300
Email: sconnelly@sparksgroupinc.com