Rockville, Maryland, May 2, 2018 - Sparks Group, a leading staffing and recruiting company that specializes in the placement of IT, accounting, professional, administrative and creative talent, announced today the launch of its newly revamped and optimized website. This newly redesigned website offers quicker and easier access to vital information of the company's core competencies and services, including temporary, contract to hire, direct hire, and more!

Site visitors will be greeted with information on the firm's services to both job seekers and clients, as well as a number of useful content to assist them with their career development and hiring strategies, respectively. Job seekers will have the opportunity to apply for open positions, submit their resume online, receive helpful career tips and learn about all the exciting opportunities and benefits offered by Sparks Group. Hiring Managers seeking talent are provided with complete details of how Sparks Group's portfolio of services can benefit their business and streamline their operations.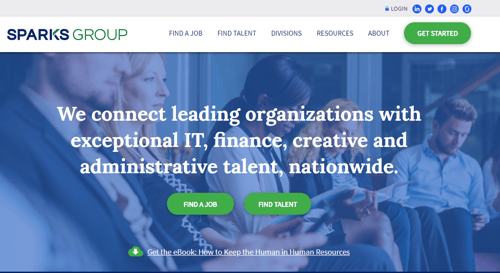 "We are thrilled to launch this new website for our company", said Chief Executive Officer Steve Sparks. "We hope that this website will serve as a valuable tool in providing outstanding service to both job seekers and hiring managers as we continue to grow in 2018."
The updated website features a clean, modern design, improved navigation and usability, and more streamlined access to rich content for hiring managers and job seekers. The updated website is now live, effective April 30, 2018 and remains at the same address: https://sparksgroupinc.com.
Note:
This post originally appeared on Newswire.
About Sparks Group:
Sparks Group is the Washington DC Area's leading temporary staffing and full-time recruiting services provider. Each of our four divisions (Office, Accounting & Finance, Information Technology, and Creative) specializes in placing professionals in temporary/contract, contract to hire, and full-time roles across a diverse array of staffing categories. Sparks Group brings over four decades of experience placing professionals in challenging and rewarding positions at many of the most prestigious organizations throughout MD, VA, DC, and NC.