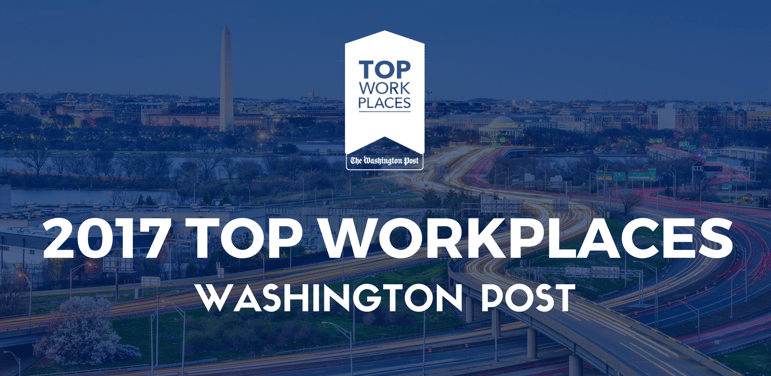 Sparks Group Continues to Dominate Workplace Culture Recognitions
The Washington, DC area's premier, full-scope provider of professional, technical, creative, and administrative talent to the area's top employers is named to The Washington Post's Top Workplaces list for the second time
Sparks Group, the Washington, DC area's leading temporary staffing and full-time recruiting services provider, announces today that has continued to amass accolades for its leadership and culture with its most recent recognition by The Washington Post in its Top Workplaces Award for 2017. Sparks Group was celebrated, along with this year's other winners, at a cocktail reception at The Washington Post Live Center in downtown Washington, DC on June 15, 2017.
Now in its fourth year, the Top Workplaces award celebrates the area's leaders in workplace culture and dynamics. This year marks Sparks Group's second recognition by this program following its position as the only staffing and recruiting firm in the Small Employer category named to the inaugural list in 2014.
Presented in partnership with 3rd party research firm, Workplace Dynamics, this year's nominees were required to submit their responses to a comprehensive survey, which includes a variety of questions inquiring into how employees view their positions, what they enjoy most about their company, how likely they would be to refer their company to others, and to share insights into the communication structure and process, among others. Answers are collected in multiple choice, ranking, and essay/short answer format around four essential "Organizational Health" themes:
Alignment
Effectiveness
Connection
My Manager
Sparks Group's employees played an integral role, with its survey-return rate at 84%, and the company's scores placed consistently above the average benchmarks in each area. Survey areas where Sparks Group achieved elite scores included:
"My manager helps me learn and grow."
"My job makes me feel like I am part of something meaningful."
"I feel genuinely appreciated at Sparks Group."
This latest recognition comes on the heels of several other recent wins celebrating Sparks Group's culture and 'people-first' approach. Sparks Group was recently recognized by The Washington Business Journal as a Best Place to Work for 2017 and as a 2017 winner of the Best of Staffing Client and Talent Awards, from Inavero and CareerBuilder, where it achieved accolades in several categories, including Client and Talent Satisfaction, respectively.
"It is an honor to be named to The Washington Post's Top Workplaces for a second time," Sparks Group's CEO and Owner, Stephen Sparks said. "We are a 'people-first' company, now and always, and it is a fantastic feeling to continue to be recognized for our successes in an area that is more than a priority to us- but one of our biggest reasons for existing as a company."
Click here for more information about this year's Top Workplaces winners.
About Sparks Group
Founded in 1970, Sparks Group (formerly SPARKS, Sparks IT Solutions, and Sparks Personnel) is one of the top staffing agencies in Washington DC and annuallt named one of the top places to work in DC, MD and VA.