Please join our entire team at Sparks Group in congratulating Patrick Daniels for celebrating his 5 year employee anniversary! "It's all about the individual's (Patrick's) personality,"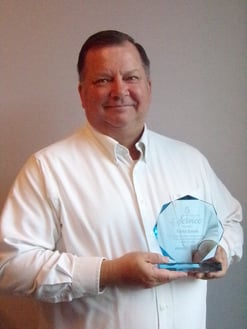 "In his 5 years at Sparks Group, Patrick has forged unparalleled change in our accounting processes," said Frank DeLapa, CFO for Sparks Group. "Upon arriving at Sparks Group, the accounting department was just beginning to emerge from an dated accounting workflow, which amazingly was paper driven and cumbersome to say the least. Patrick knew early on that change was needed, but also realized the challenges and commitment it would require to begin the process of change in a department so well established in their daily routines. He persevered and took it one step at a time, and eventually began a cycle of change that is still ongoing today."
"Additionally, what I find most pleasing about his work ethic is he has the personality who can deal well under a lot of pressure while mercilessly accepting constructive criticism and maintaining the ability to listen for content and not overreact to painstaking instruction. Moreover, the most successful controllers I have worked with had the ability to take GAAP rules and convert them to common speak for their accounting team members, line managers and directors. Patrick's accounting communication skills are tailored for everyone. Yes, Patrick is pleasant to work with and is kind and thoughtful, but there's a difference between employees who are pleasant to work with and those who avoid conflict at all costs. Patrick is not the latter, he is firm when he needs to be, and will always provide ample feedback and not shy away from going to bat for the accounting team."
Additional members of the Sparks Group Accounting/Back Office Team provided the following excellent quotes about Patrick:
"What sets Patrick apart from other managers I have worked with in the past is his serene composure in the face of challenges and his aptitude to listen and embrace alternative perspectives." – Adjo Laison

"Patrick's detailed knowledge of Accounting principles has been crucial to help us take advantage of all the tools that [our accounting software] provides. He has the ability to look at our processes holistically and understand what the effects will be with even minor changes." – Paul Zimmerman

"Patrick is always helpful whenever I enter his office and no matter what he's working on he will stop and assist me." – Paula Jones
Congratulations Patrick!