Our entire team at Sparks Group is pleased to congratulate Kate Reid on her 5th anniversary with the company!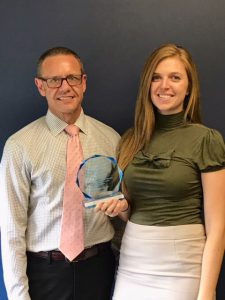 "Over the past five years, we have all witnessed Kate grow like no other, said Charles Harris, Regional Director for Sparks Group. Kate started with Sparks Group as a staffing supervisor in our Rockville office, where she learned the nuts and bolts of recruiting and account management. Later Kate transitioned to our IT group where she functioned as a technical recruiter; however, it wasn't long before Kate realized her passion was for the admin side of the business. Kat
e learned of an opening in the DC office and a "brief meeting" with me was coordinated. Little did Kate know this would be an hour and a half-long interrogation under a hot spot light. Ultimately Kate joined the DC team as a staffing supervisor. After working with Kate for a short time and realizing her abilities, I had grand plans for her. Kate quickly grew to senior staffing supervisor and then to territory manager. I am so proud of the focus, dedication, and overall growth Kate has shown over the past five years."
As a territory manager, Kate has taken the DC office to new heights. Last year, Kate and her team exceeded their sales forecast and, so far in 2017, the team is trending to exceed forecast once again. Kate has put together a high performing team of recruiters that truly love and respect her and are eager to learn from her knowledge of the staffing industry.
Kate, we can't thank you enough for the positive impact you have had on the organization. Congratulations!