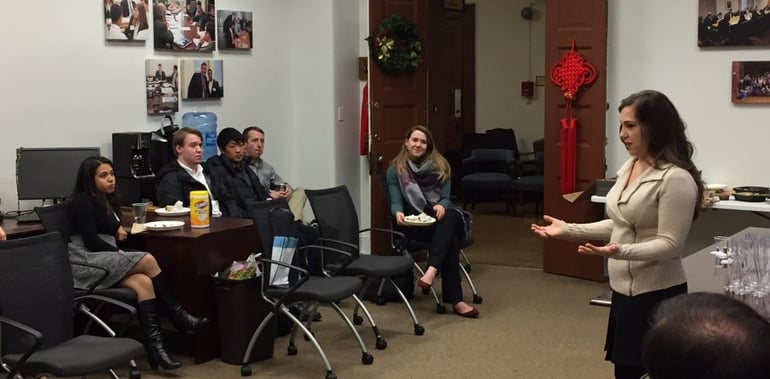 Each month, The Busch School of Economics & Business at The Catholic University of America holds a networking event for prospective and current students of their MSBA program. On December 7, 2016, Sparks Group's Jenna Antos had the privilege of speaking about her journey into the professional world post-graduation from the program in 2011. From internships and job searching, to transitioning from industry-to-industry, Jenna discussed how communication, networking and building relationships have helped shape her professional career. As a subject matter expert in staffing, with Sparks Group, Jenna talked through tips and tricks for resume writing and interviewing, becoming a LinkedIn all-star, and what can students do over the winter break to prepare for the post- graduation job hunt.
In narrative form and edited for print, below is a recap of Jenna's talk with the Class of 2017 & prospects:
Where did you intern while you were in the MSBA program, how did you land your internship, and what did you learn?
DC Government, Office of Contracting and Procurement. I worked in the Procurement Integrity and Compliance Division developing a post-award, no-bid contract scoring system to support the office's annual financial report remediation.
How did I land my internship? With the help from MSBA leader, Stew McHie, I found out who the Director was, learned as much as I could about him and his staff, prepared like crazy for my interviews, and bought a killer pair of new shoes to boost my confidence! When they said they didn't have the head count for new staff, including interns, I wouldn't take no for an answer. I continued to follow-up, expressed how I could be helpful to their up-coming projects discussed during my interview, provided them with recommendations, and eventually sold myself on working without pay, because what I really wanted was the experience.
Professionally, my time at OPIC enabled me a solid understanding of government procurement. I realized though, that I wanted to be on the other side of the process, the selling side. Personally, I got a feel for the type of office and culture I was looking for in a job post-graduation. I also experienced multiple managerial styles reporting into different people, so I had some experience to answer the very likely interview question, "What do you look for in a manager?"
Upon graduation you entered the Information Technology industry without an IT or engineering background? What was that like and how did you overcome the challenges?
It was a little intimidating at first, 'information overload,' really. I found myself second guessing myself quite often, but I tried not to let it show.
Internally, I attended all the training sessions I could, got in with the marketing team, built relationships with partner company employees, asked a ton of questions and never had lunch alone. There was a direct correlation to the increase of my understanding of the products and the sales process with the more people I met and talked to. I also met with my manager on-on-one to discuss expectations, my progress, and to set short-term goals.
Externally, if I didn't know the answer to a question from a client, I told them I didn't know, but I would get back to them. I did the research, worked with my team, and got back to the client with the information they needed as fast as I could. My timely responses and dedication were recognized, and as a newbie in the industry, I began earning some street cred!
As you transitioned into new roles and different industries, what were some strategies that you used to assimilate into a new office culture?
Little things. I constantly observed how people interacted with each other. I always addressed my co-workers and staff by their names, and I engaged in small talk when appropriate. I participated in company events and volunteering. I learned and remembered small details about the office and the people, and before you know it I had a professional family! And, I asked a ton of questions.
What can students do over the winter break to prepare for the post- graduation job hunt in the spring?
Job Shadow- Shadow your parents, family members, or friends at their jobs for a day. Dress the part, be an active listener, observe, and ask questions. Follow up and connect! You never know when someone you've met or something you've learned will re-surface into a future opportunity.
Network- Networking is one of the most valuable uses of your time at any stage in your career. Meeting new people, connecting with old and new colleagues and learning about what they do will broaden your knowledge in business and build your repertoire of talking points. Networking doesn't have to be super formal either. Meet your friends, parents and their colleagues out for happy hour, attend a seminar about something you're interested in, or volunteer. Yes, you're selling yourself, but do so by asking questions, not talking someone's ear off. Networking is fun, and it helps you develop your soft skills.
LinkedIn- Revamp your page! Follow companies in your industry of interest and connect with employees. Introduce yourself to new contacts, and grow your online network. Choose a profile headline that will differentiate you from others and take the time to write up a professional summary based on your experience thus far and what you're looking to do.
What would you say are the top 3 qualities an MSBA student or job seeker can possess?
Determination, Grit, and an Open Mind.
I'm the type of person who likes to have a plan, but what I've learned is it rarely works out as planned. But that's ok! You never know when an opportunity will present itself, so keeping an open mind is absolutely key. When I left IT and took a BD/marketing position in pharma, I wasn't sure it was the right move, and I had to start all over. It was overwhelming, but I stuck with it and ended up being introduced to recruiting. It paved the way for my next career move, and gave me unique experience and perspective to tell my professional story to my next employer.
Work hard and with integrity and you will find yourself along the way. The experiences and lessons learned are what really matter. Those are transferable to any job and any industry.
What would your advice be to yourself, looking back today…?
Don't be afraid to make mistakes, or to ask for help. Promise yourself you won't make the same mistake twice!
Find yourself a mentor at every stage in your career, and never stop building your network.
Set goals for yourself, be aggressive working towards them, and don't get discouraged if they change- because they will! My current manager coaches me to set a daily goal for myself, and says if I don't achieve it, my work day isn't over. It's helped me work smarter, and more efficiently.
--
In her role as an Account Executive at Sparks Group, Jenna is responsible for cultivating and developing staffing partnerships with key clients in Northern VA, DC, and Maryland. To connect with Jenna on LinkedIn click here. For more information on Sparks Group and its services, please visit www.sparksgroupinc.com.