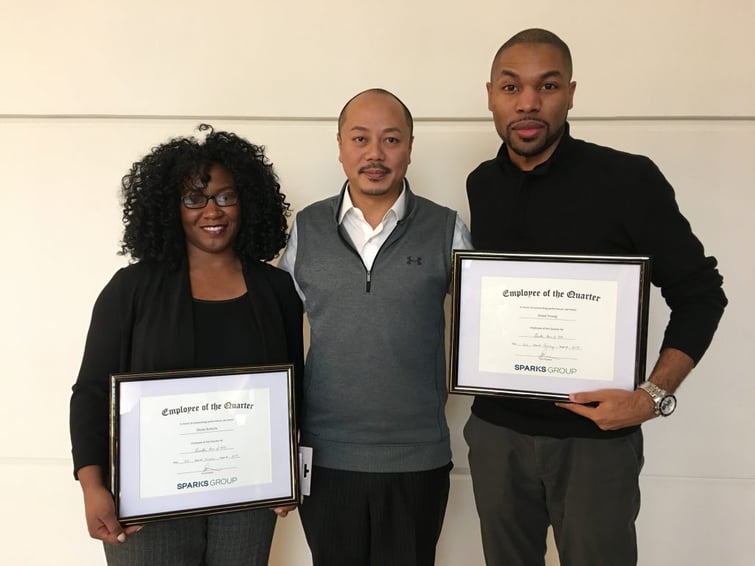 Sheila Roberts and Jamal Young Have Each Been Named Employee of the Quarter!
Please join Sparks Group in congratulating our latest contract employees of the quarter --Sheila Roberts and Jamal Young! Both Sheila and Jamal were nominated by Howie Huang, Vice President for Sparks Group, who noted the consistent/outstanding feedback that he receives from the Program Manager, with regards to their commitment and quality of work. Below are excerpts from that feedback:
Sheila Roberts:
"Sheila Roberts has been recognized on multiple occasions by the [agency] for being results-driven while maintaining a positive, can-do attitude on a very challenging contract. She always communicates effectively with both the Program Manager and Government staff, and is always willing to roll up her sleeves or pitch in to tackle a new task. She is a quick learner and has stepped up to the plate to lead several vulnerability scanning tasks that had high visibility."
Jamal Young:
"Jamal has only been here for a brief period of time, but has already proven to be an asset on the team through his in-depth analysis and focus. He has a great work ethic and was recently recognized by the Government staff for his ability to pick up new tasks and run with them immediately with little supervision. He has also been recommended for additional responsibilities in the near future."
Congratulations Sheila and Jamal and thank you for your continued commitment!