Please join all of us at Sparks Group in congratulating Hideki Kubota for being selected as our latest Employee of the Quarter for internal staff. Hideki, a Technical Recruiter for Sparks Group's IT Staffing Services group, was selected for this honor through a peer nomination process.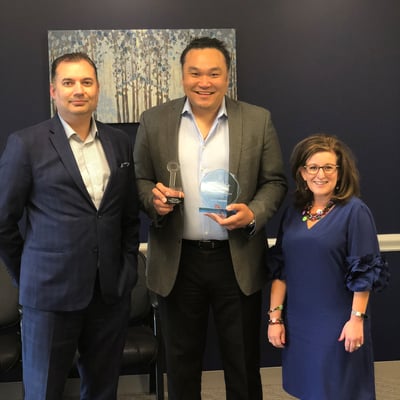 These were some of the kind words that were said about Hideki by his colleagues and leader:
"He has been the rock that the current IT team needs."
"Hideki has taken on new responsibilities with [account managing, in addition to being an amazing recruiter]. He was also the top producer for the company in the month of February."
"He has also personally helped me a lot [in my career] as I transition into IT recruiting."
"He's always available to answer my many questions and does a great job making the team laugh. And he's often the last person to leave the office too!"
"Hideki Kubota is a great leading example for our group, always willing to help and assist, and running a full desk right now! #Rockstar"
"He has been always an anchor for IT through and through."
"Always positive, driving his peers to perform more, and always willing to go the extra mile!"
Additionally, this week Hideki also celebrated his 5 year anniversary with the company. "On behalf of everyone within our group, I wanted to take this moment to thank and congratulate Hideki on these great achievements," said Mel Masta, Division Director for Sparks Information Technology. "We appreciate every effort and the time he has put into your job in the past five years. You work hard and constantly strive to uplift people around you. You have been a stellar example to everyone here."
Congratulations Hideki!