Sparks Group Continues Tradition of Recognition as a 2017 Best Place to Work
The Washington, DC area's premier, full-scope provider of professional, technical, creative, and administrative talent to the area's top employers continues to score consistently strongly in key areas of employee satisfaction and engagement, key to lasting success
Rockville, MD – May 05, 2017 - Sparks Group, the Washington, DC area's leading temporary staffing and full-time recruiting services provider, announces today that it has been selected by The Washington Business Journal as one of the area's Best Places to Work. The annual award program recognizes Greater Washington's top employers, seeking those that go above and beyond to cultivate a meaningful and positive work environment for their employees. This year's winners will be celebrated at an awards and cocktail reception in June.
Winning companies are selected based on the results of an employee survey completed by a representative sample of the organization's total staff. The survey, administered by Quantum Workplace, then evaluates nominee companies on a series of criteria, including:
Team effectiveness
Retention
Employee alignment with company goals
Trust with co-workers
Individual contribution
Manager effectiveness
Trust in senior leaders
Feeling valued
Work engagement
People practices
Communication and Resources
Individual Needs
Manager Effectiveness
Personal Engagement
Team Dynamics
Trust in Leadership
The survey also includes a ranking to gauge level of employee respon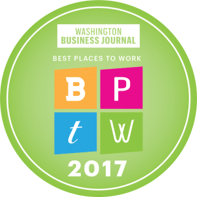 se to key statements, such as "I'm happy with my job," and "I'm paid fairly" to get a full picture of the culture each employer fosters. In key areas, Sparks Group's employee scores have remained consistent, and even grown, year-over-year from its 2014 and 2015 submissions. For example, in "Employees are recognized as individuals," Sparks Group increased to 89% in 2015 from 75% in 2014. Other areas showed marked improvement by the company to continue to engage its staff, such as "Sparks clearly communicates its goals and strategies," up to 79% in 2015 from only 55% the previous year. Other areas remained consistently strong, such as "Management in sensitive to employee problems," highlighting the level of commitment Sparks Group's leadership brings to the management of the organization as a whole, and the acknowledgement of the critical importance engaged and satisfied employees play in a company's lasting success.
"We are very proud to be selected a Best Place to Work by The Washington Business Journal," Sparks Group's CEO and Owner, Stephen Sparks said. "We are a 'People First' company- and to us, organizational culture and the engagement of our employees come above all else. We are especially pleased to see these values recognized in this latest award win."
Click here for more information about this year's Best Places to Work winners.
About Sparks Group
Founded in 1970, Sparks Group (formerly SPARKS, Sparks IT Solutions, and Sparks Personnel) is the Washington DC Area's leading Temporary Staffing and Full-Time Recruiting Services Provider. Sparks Group recently ranked as one of the Top Workplaces in the DC Area, according to the Washington Post and regularly ranks as one of the top staffing and recruiting firms in North America by Inavero and CareerBuilder. Whether you are seeking your next opportunity or looking to add talent, Sparks Group is the ideal partner for you! Our areas of specialization include: Accounting and Finance, Administrative and Office Support, Contracts and Acquisitions, Customer Service and Call Center, Human Resources and Talent Acquisition, Information Technology, Paralegal/Legal Support, and Creative and Marketing. For more information about Sparks Group, please visit www.sparksgroupinc.com, or learn how we've helped companies and job seekers achieve their goals!
####