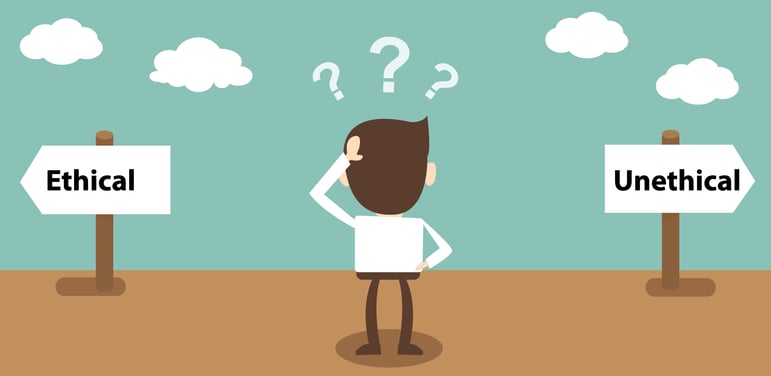 Think you can advance in your field by lying and cheating your way to the top? Think again.
Professional ethics is a huge part of the business world. There are serious consequences for not playing by the rules ─ and failing to adhere to them can be detrimental to your career. No matter what the situation, it's never a good idea to behave in an unethical manner.
Abiding by the rules of professional ethics is not an option ─ it's a necessity. If you want to enjoy a long, successful career you must always do what is right and proper.
Four Ways Professional Ethics Plays a Role in Your Career Advancement
Building Trust: When you behave in an ethical manner, you earn trust from your colleagues and business associates. This leads to greater support for your ideas and increased leadership opportunities, helping you to climb the corporate ladder.
Maintaining a Good Reputation: In business, your reputation precedes you wherever you go. You can spend years building a positive reputation, but completely destroy it by making just one unethical decision. If you're known as someone who is willing to make unethical decisions, people will lose respect for you. It's very difficult to advance in your career with a reputation of unethical behavior.
Making Lasting Connections: When working your way up in your career, it's often who you know that can help you land your dream job. Whether a former manager agrees to serve as a reference for a new job you're interviewing for or a connection passes an exciting career opportunity your way, they do this because they trust that you're an honest person. If people think you're disreputable, they won't maintain their connection with you.
Ensuring Positive Outcomes on Projects: It's great to receive positive accolades after working hard on a project. However, if you have a spotty reputation, people are always going to wonder if you cut corners on your work, contributing to your strong performance. Conversely, workers with a strong reputation of abiding by the code of professional ethics will be not be questioned on the validity of their work, helping them rise to the top.
Learn More About Our Company: Sparks Group is Selected as a Winner of the National Capital Ethics Award
Searching for a diverse and challenging new position? Contact Sparks Group, the leading staffing and recruiting firm in DC, MD, VA, NC and beyond. We have a variety of exciting temporary, contract to hire and full-time employment opportunities across our staffing and recruiting areas of expertise.