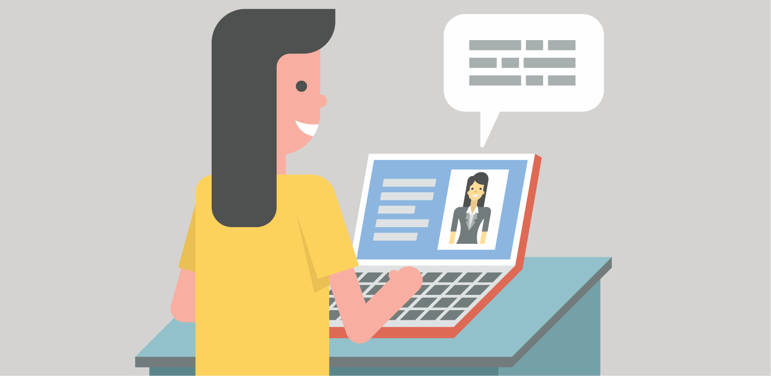 Interviewing for out-of-town jobs can be tricky. It's important to decide in advance whether you're willing to travel for an interview and if you're able to pay all or some of the expenses. Use your decision to tailor your interview strategy. For example, if you're prepared to travel on your own dime, note this in your cover letter to attract the attention of the employer.
Most companies understand that the best person for the job isn't always currently living in the area. Any employer worth your time should be willing to work with you to conduct an interview that meets both of your needs.
Five Tips to Make a Remote Interview a Success
Skype has become a very popular way for companies to interview both local and long-distance candidates, as it is both efficient and cost-effective. Use these five tips to make your remote interview run smoothly:
Practice, Practice, Practice. The importance of practicing your interview on Skype prior to the day of the actual event cannot be emphasized enough. Not only do you need to know how to use the platform, preparing with another person can give you valuable feedback. This provides you with the chance to make important adjustments, such as lighting, sound, and camera angle, to ensure you're putting your best face forward.
Choose Location Wisely. The area where you're sitting serves as the backdrop to your interview, so use good judgment when choosing it. Be sure to select an uncluttered area without anything on the wall or in the background, so the interviewers do not become distracted.
Prevent Interruptions. It's essential that you're not interrupted by anyone on your end during the interview. If you have young children that will be home, have someone else keep an eye on them, so you can focus 100% on your interview. Keep all barking dogs, curious cats, and other pets out of the room as well, so you can be completely focused on your interview.
Dress Professionally. While you don't typically walk around your home in business attire, it's important to get dressed up for an interview ─ even a remote one. You want to project a professional image to your interviewers and you can't do this in sweatpants.
Speak Slowly and Clearly. While sound quality on Skype is typically pretty good, it's not the same as talking to someone in the same room. Be sure to speak slowly and clearly so your interviewers don't miss a single word of your responses.
Looking for a new job in a new location? Contact Sparks Group. We have a variety of job opportunities available in the Washington, DC/Baltimore metropolitan area.